The Battle Monuments Commission in Washington, D.C. has chosen the design and orientation of our memorial to the war to be placed in the Mall area in Washington, D. C.
We believe we need a memorial museum that will uplift and teach the geographical history to those who visit. My design is a positive one, with the memorial centered to properly display our battle sites on our east and our west. Our world and its historical past will be frozen in time for future generations' knowledge.
For $1,000.00 the Washington DC mall memorial will enter a WWll vets name in a register, whether killed in action or still alive. My 3 KIA cousins plus me would cost me $4,000 dollars for registering their names! Each WWll KIA gets 1/100th of a gold star in the DC mall memorial. There is very little significance of WWll people there. In our design all vets medals, family, and battle site history would be computerized and frozen in time for display to the visitors.
Below is a rendering of my proposed design that appeared in the Sept 1995 issue of Popular Mechanics Magazine on page 12. In this design, Vintage Fathers and Mothers sacrificed their most precious sons and daughters for today's and tomorrow's generations as sculptured pillars of strength, holding up the world between the two main WWII fronts: the Atlantic and the Pacific. While walking over the map of the world, veterans from any theater can locate and point out their battles.
Here is a rendering of our proposed design compared with the Washington Memorial:

Proposed New WWII Memorial Museum Designed by Richard Berry
Click On The Image For A Full-Size View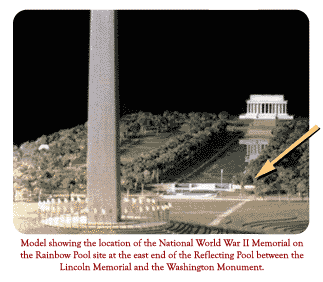 Design of the WWII Memorial in Washington, D.C.
Can you see it? The arrow is bigger than our memorial.

You Can Help Us Build Our Memorial Museum!
Below are some E-Mail and Postal Mail addresses of people that could help in building our new memorial museum. If you would like to join the other veterans volunteering help in the planning of our new memorial museum, let us know by filling out our form, and we will post them here. Click on the names to send E-Mail.

U.S. House of Representatives
U.S. Senate
The President, George W. Bush
The Vice President, Dick Cheney

American Battle Monuments Commission
National World War II Memorial
2300 Clarendon Blvd., Ste. 501
Arlington, VA 22201





Contact Us: